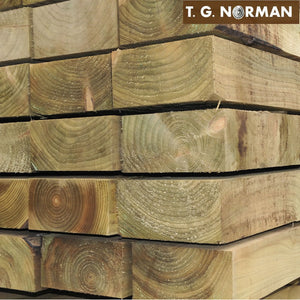 New Sleepers (Green Treated)
New Sleepers (Green Treated)
8'6 x 10″ x 5″ (2.6m x 250 x 125mm)
These are perfect for any landscaping project, from edgings, decks, walkways and raised flower beds.
Available in a green or brown finish, pressure treated to protect against rot and decay making sure they have a long life.
We can also cut these to your specific size on site on the day with no fuss or delay, making the process even easier.
Why not visit our projects page to see pictures from our customers.
8'6 x 10″ x 5″ (2.6m x 250 x 125mm)